$25,000 Top at Feb All Breeds
21 Mar 2022
Story and photos by: Kent B Ward
Pictured: John and Bianca Collins and son, Clayton, Annandale Stud, Calliope with the top selling Droughtmaster bull, the $25,000, 25-month-old, Annandale Acres Covid (P).
Sale summary:
36 Bulls
Average: $11,069
Top: $25,000
Clearance: 97%
Droughtmaster were one of the stand out performers at the recent Annual February All Breeds Bull and Female Sale, CQLX, Gracemere.
Selling to a top of $25,000 the breed and its vendors set a bottom line average of $11,069 for a 97 per cent clearance at auction. This was the best of the sale results in a fixture that encompassed 13 breeds and composites. Average values climbed by $1650 over the 2021 result while sale clearance rates saw a massive improvement of 30 percent. The nearest rival as far as averages was concerned was the Brangus breed. That section saw 39 bulls average $10,256 to top at $18,000 twice for a total clearance at auction.
Sectional topper at $25,000 was Annandale Acres Covid (P) (25-months) (866kg) (137EMA) (12/8mm) offered by John and Bianca Collins, Annandale Stud, Calliope. The son of Craiglea Hercules sold to Ken and Debbie Rutherford, Redskin Stud, Morinish. Annandale sold a paternal half brother to the top seller for $20,000 to the Fassifern Limousin Stud, Tarzali. The four by Hercules from Annandale Acres averaged $15,250 including a $10,000 herd bull.
The Farquhar family, Calco Stud, Rolleston sold a 23-month-old, Medway Xpertes son for $23,000 to Jellinbah Ag and Pastoral, Cotherstone Station, Dysart to set a team average of $11,000. Jellinbah emerged as a major supporter of the section signing off on four lots for on average $16,500.
Andrew and Jessica Welch, Wantmore Droughtmaster Stud, Kingaroy topped their draft of six with a $22,500 sale for a son of Oasis Bodacious going to Nick and Rhonda Dudarko, Kangarin, Biloela. The Wantmore team averaged $12,250. This result included a $14,000 Needmor 688 son selling to Alastair and Karen Kirk, Olinda, Baralaba. Dan Godfrey, Rosedale selected an $11,000 herd bull from Wantmore.
Doug and Juanita Birch, Birch Stud Eidsvold averaged $12,200 for their five topping at $18,000 for a Bellarine Apollo (S) son selling to Jellinbah Ag and Pastoral. Another high seller for the Birch prefix was a two-year-old paternal half brother to their top seller making $16,000 and selling to the Woolcock family, Mostyndale, Springsure.
Sally Terry and family, 3D Stud, Haden averaged $10,667 for their trio topping at $13,000 for the 27-month-old, 3D Magnum (3D Jefferson) selling to Dave and Colleen Smith, Vale View Stud,
Manumbar. Greg and Linda Nugent, Carnudge Stud, Dayboro set a $8400 for four topping at $12,000 for a son of Carnudge Ernest Alot going to the Bowkett family, Cecilwood, Raglan. Glenn Valley principals, David and Alice Schloss, Goovigen averaged $11,000 for their trio topping at $12,000 on two occasions selling to Peter Rolfe, Marmor and Jellinbah Ag and Pastoral.
Rob and Kirstie Orphant, Seymour Stud, Gunalda averaged $7000 for their three.
Gary and Jillian Little, Riverland Stud, Millaa Millaa sold their sole entry, a 25-month-old for $11,000 while Chris Turner, Maunsell Park Stud, Gympie collected $9000 for his single entrant.
Cloyna based prefix, Tajana Stud, operated by Roger and Carol Webber averaged $10,000 for their pair topping at $11,000. George and Gayle Ward, Jomedan Ridge Stud, Aramara sold a single bull for $8000.
Agents: Elders, Nutrien Ag Solutions and Stocklive.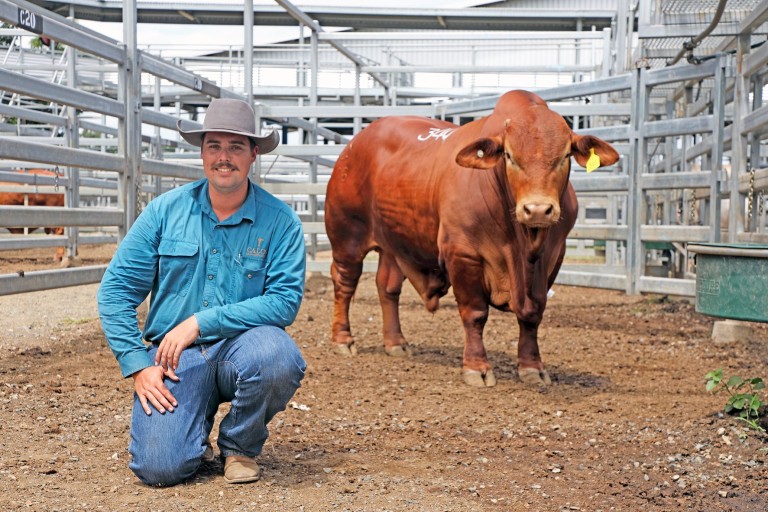 Larry Farquhar, Calco Droughtmaster Stud, Rolleston with his $23,000 seller, Calco Éclair (P).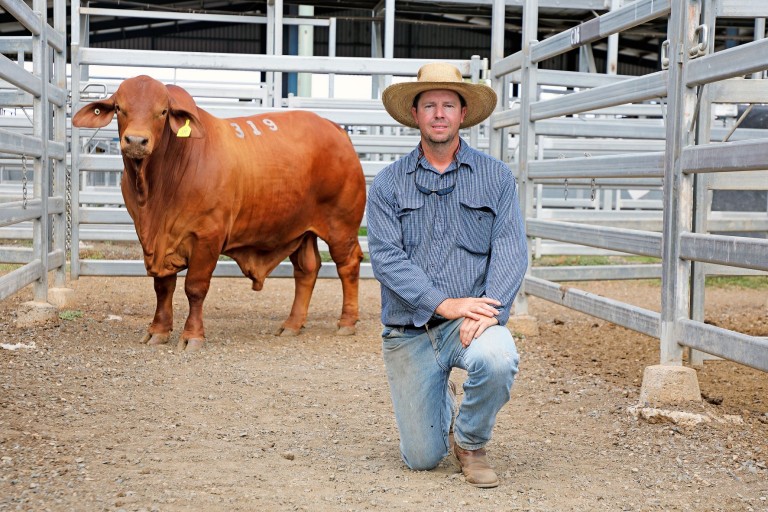 Andrew Welch, Wantmore Droughtmaster Stud, Kingaroy with his $22,500 seller, Wantmore Louis (P).